Thank you Wild Selections® for sponsoring this post. For a more sustainable meal, be sure to check out Wild Selections® premium seafood — it's always healthy, always Marine Stewardship Council certified, and always delicious!
Tuna Tettrazini is a delicious and hearty casserole. Your whole family will love this dish, perfect for dinner, a potluck or picnic. Delicious hot and fresh out of the oven, and as leftovers the next day!
Click on the image below to purchase Wild Selections Solid White Albacore Tuna!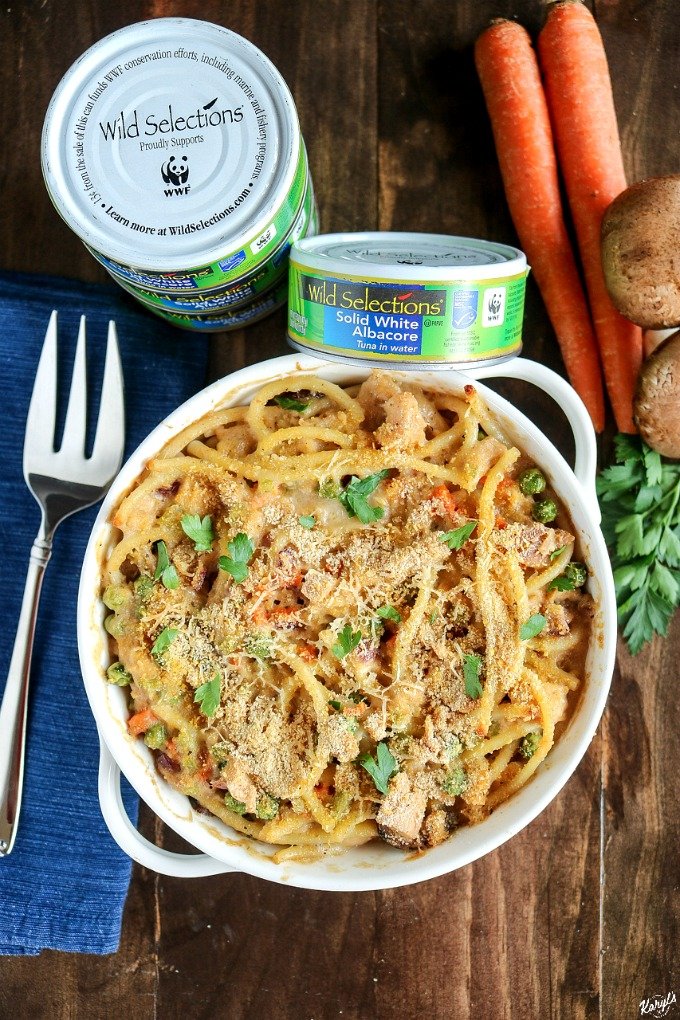 I don't recall my parents ever making tuna recipes when I was a kid, so I don't think I ever ate it. As a young adult I did eat it more often, primarily in tuna fish sandwiches. Now I always keep tuna in the pantry. It is light, healthy, delicious and versatile, and you could even eat it straight out of the can. My go-to type of tuna is solid white albacore tuna, because of the thick, meaty chunks.
WILD SELECTIONS' COMMITMENT TO SUSTAINABILITY
Sustainability is so important in the world today, and sustainable fishing is no exception. That is why I was so excited to discover Wild Selections. I like to know where my food comes from, and each Wild Selections product is traceable to the ocean from where it was sourced. Wild Selections partners with World Wildlife Fund by donating 13 cents from the sale of each can. These funds support the WWF's efforts to protect marine life and expand sustainable fishing practices. Many seafood products these days are farmed; Wild Selections sources its wild-caught seafood from ocean areas that have been certified sustainable to the Marine Stewardship Council Standard.
My mom made casseroles quite often when I was a kid. I didn't learn to cook until I moved out after college; my mom taught me some of my favorite recipes, but casseroles weren't on the list. I think it's because casseroles mean leftovers, and I swore those off when I moved out. However, I've recently gotten back into the casseroles game, and I am always on the lookout for something new. Wild Selections made that choice easier, and I created Tuna Tettrazini
I honestly can't tell you the last time I had Tuna Tettrazini or a tuna casserole. As I savored every delicious bite, I kicked myself for not making this sooner. I use Wild Selections Solid White Albacore Tuna in Water for the Tuna Tettrazini. Wild Selections tuna has a cleaner and fresher taste than other tuna brands, and I noticed that difference from the first bite.
KEYS TO THE PERFECT TUNA TETTRAZINI
Make your own mushroom cream sauce. Yes, you could use store-bought, but it is very easy to make your own and it's so much more flavorful You control the ingredients and seasoning, and the mushrooms develop a wonderful flavor when sauteed separately first
Traditional tuna casserole only uses mushrooms and peas; I add carrots, celery, red onion and garlic in my Tuna Tettrazini. The vegetables add bulk, texture and more flavor
I use bucatini pasta. It's a long pasta like spaghetti, but thicker and it has a hole down the middle. I also break the pasta into thirds, so that it is  more bite-sized
I always have fresh Parmesan cheese on hand, and grate it as needed. Fresh cheese has so much more flavor than the stuff in the can, and I love the bite of Parmesan.
When I knock it out of the park with a new dish, I dance around the kitchen. And yes, my Tuna Tettrazini made me dance! The homemade mushroom cream sauce makes such a difference. It takes a little patience for a silky, creamy sauce, but it's well worth it. I use baby portobello mushrooms, because I prefer the meaty texture over white button mushrooms. You can of course use white mushrooms, or even a combination of mushrooms. I use homemade vegetable broth, which has much more flavor than store-bought, and I also use almond milk because that's what I always have in the fridge.
TUNA TETTRAZINI IS PERFECT FOR LEFTOVERS!
As I mentioned previously, I'm not a big fan of leftovers. I do have a few exceptions, and my Tuna Tettrazini is absolutely one of them. When I make Tuna Tettrazini for myself I still make the recipe for 2 so I have leftovers the next day. It reheats well in the microwave for an individual portion, or in the oven for a larger dish. This Tuna Tettrazini recipe is easy to double or even triple for a crowd. I use an 8×8 inch baking dish, but for the larger casseroles, use a 9×13 inch baking dish.
I am excited to add Tuna Tettrazini to my regular recipe rotation. This is a wonderful casserole for a dinner party or picnic, as it holds well and is delicious at room temperature or even cold. I will also always keep Wild Selections Solid White Albacore Tuna in my pantry at all times, for all of my tuna recipe needs.
Print Recipe
Tuna Tettrazini
Ingredients
2

cans

Wild Selections Solid White Albacore Tuna in Water, drained

4

ounces

bucatini pasta, broken into thirds

4

Tablespoons

butter

4

ounces

baby portobello mushrooms, quartered

2

Tablespoons

all-purpose flour

1/2

cup

vegetable broth (I use homemade)

1/2

cup

milk (I use almond milk)

1/2

cup

heavy cream

1/4

teaspoon

sea salt

1/8

teaspoon

fresh cracked black pepper

1/8

teaspoon

dried thyme

1/8

teaspoon

nutmeg

1/8

teaspoon

onion powder

1/8

teaspoon

garlic powder

1/2

cup

frozen peas, defrosted

1/4

cup

celery, diced

1/4

cup

carrots, diced

1/4

cup

red onion, diced

2

cloves

garlic, minced

1/4

cup

fresh grated Parmesan cheese

1/4

cup

Corn Flake crumbs

1

Tablespoon

fresh grated Parmesan cheese
Instructions
Preheat oven to 375 degrees

Bring a large pot of water to a boil. Add salt and pasta, and cook for about 10 minutes, until al dente. Drain

Melt 2 Tablespoons butter in large skillet. Add mushrooms and saute over medium heat for 3-4 minutes, until soft. Remove mushrooms from skillet.

Add remaining 2 Tablespoons butter to skillet, and melt. Add flour and whisk constantly over medium-low heat, until well combined. Slowly add vegetable broth, milk, and heavy cream. Whisk constantly to prevent lumps. Cook for 2-3 minutes, until it slowly bubbles.

Add peas, carrots, onions and celery, and cook for 2 minutes. Add salt, pepper, thyme, nutmeg, onion powder and garlic powder. Return mushrooms to skillet, and add tuna and Parmesan cheese.

Add pasta to skillet, and combine well.

Spray 8x8 baking dish with cooking spray. Add mixture to baking dish. Top with Corn Flake crumbs and Parmesan cheese.

Bake in oven for 30 minutes. Let rest for about 5 minutes prior to serving.
I was selected for this opportunity as a member of CLEVER and the content and opinions expressed here are all my own.